This is the most common question regarding tattooing, does it hurt? Everyone's level of tolerance is different so the level of pain really varies with each person. Yes, it does hurt but it is tolerable. We use a numbing solution. It doesn't take all the pain away, but it lessens it. Tattooing is sort of a "scratching feeling." The beauty of a professional tattoo and the pride associated with it far outweighs the needle pokes here and there.
We are open Monday through Saturday 12pm to 9pm.
HOW DO I GO ABOUT GETTING A TATTOO DRAWN UP?
We are a custom shop, meaning not only are we comfortable but prefer working with our clients to design original artwork for their tattoo. Please feel free to come into the shop any time during regular hours to chat with one of our artists about your ideas. If you feel you need additional time or are planning a larger piece, you can schedule a consultation appointment.

We are only able to generate drawings for actual appointments. We cannot simply draw something to see if you like it. We simply do not have the time. Once a client has made an appointment, we will design the tattoo and have the artwork ready for the appointment. We always schedule ourselves plenty of time the day of the appointment to make any necessary changes/adjustments that the client requests.
HOW OLD DO YOU HAVE TO BE TO GET TATTOOED?
18 years old or older. We can tattoo people under 18 with parental consent. You will need a photo idea issued by the state (with birth date) and a parent or guardians ID as well. We will not tattoo anyone 17 or under.
HOW MUCH DO TATTOOS COST?
The cost of tattoos is one of the first questions that is asked. The old saying "you get what you pay for" couldn't be more true than in tattooing. Who ever you get your tattoo from, make sure they are a true artist who has had proper training. There are many people tattooing that will ink you up for a low price, but a cheap price, usually means a poor quality tattoo. Eventually you will have to pay more to cover it up. Look for a quality artist, and be willing to pay for it. NEVER haggle over the price of a tattoo. It is disrespectful to the artist. Remember, your tattoo is a piece of art you will wear for life.

By the way, we do cover-ups.
Deposits are non-refundable, but are transferable. With a minimum of 24 hours notice, you will be able to reschedule your appointment and not lose the deposit on your appointment. If notice is within the 24 hour period or you do not show up, the deposit will be absorbed by the shop and another one will need to be left in order to secure an appointment.
WHAT TATTOO SHOULD I GET?
This question is one of the more odd ones. A tattoo is something that you wear for the rest of your life so, only YOU can really answer this question. You can get whatever you want, and whatever your artist is willing to do. You can choose a piece of flash (image off the wall) or you can have a custom drawn piece for you. As far as where you should get it goes, just keep in mind what you do for work and the type of social circles you are in.
DO WE DO $10 OR $20 TATTOOS?
No. No. and No. We do not do $10 tattoos at Miller Ink Tattoo. We use the highest quality of ink, needles and equipment. Our clients deserve the best and we make sure everything we use is the highest quality. "Besides, shouldn't a tattoo should cost more than a haircut?"

Think about it for a moment...
WHAT IS THE LEAST PAINFUL AREA TO GET TATTOOED?
This is another common question. Everyone handles pain differently and what might be a sensitive area for one person might not be for another. Below is a general guide for pain tolerance:


(1.)

PIN PRICK

(2.)

BEE STING

(3.)

FEELS LIKE A TATTOO

(4.)

NOW... IT F*CKN' HURTS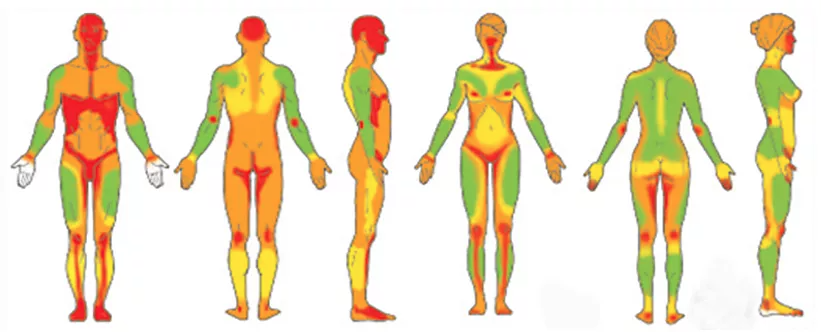 LEAST PAINFUL AREAS:
MEN - BUTTOCKS, ARM, BACK
WOMEN - ABDOMEN, BUTTOCKS, THIGH, SHOULDER
MOST PAINFUL AREAS:
MEN - ABDOMEN, SPINE, CHEST.
WOMEN - ANKLE, SPINE, RIB CAGE
HOW LONG DO I LEAVE THE BANDAGE ON?
So, you just got your new tattoo and you want to take good care of it! From this point on, your artist is not responsible for any infection or problems you may have with your tattoo if you don't take proper care of it. It is very important that you follow your artists instructions. Your new tattoo is sort of a wound. Open flesh is a breeding ground for bacteria and infection.
LEAVE THE BANDAGE ON FOR A MINIMUM OF TWO HOURS.
WASH & TREAT
After you remove the bandage, you will want to wash your tattoo. Use lukewarm water and mild, liquid antibacterial (Don't use Dial Soap) to gently wash away any ointment, blood and/or plasma and to completely clean the area. Do not use a washcloth or anything abrasive. Your hand is your best tool in this case. (If your tattoo feels slimy and slippery, you have probably been oozing plasma. Try to gently remove as much of this as possible - when the plasma dries on the skin surface, it creates scabs.)Pat (do not rub) the area firmly with a CLEAN towel or paper towel to get it completely dry. Follow with a very light application of your choice of ointment. A&D vitamin enriched ointment would be my first choice, but if you don't have any, Bacitracin or a similar antibacterial ointment is acceptable.**DO NOT USE NEOSPORIN** This is a wonderful product for cuts and scrapes, but not for tattoos.
LOTIONS
You can also use a specialty product such as Tattoo Goo, H2Ocean or many over the counter products work just fine as well. Use the products as directed as continue for 3-5 days. After that, continue to keep it clean, but you can use lotion when needed instead of ointment, to keep the skin soft. Whatever lotion you use, it should be dye and fragrance free. A lot of artists recommend Lubriderm
BATHING, SHOWERING, SWIMMING AND HOT TUBS
Yes, you can shower with a new tattoo. It's OK to get your tattoo wet - just don't soak it. Submerging your tattoo in a bath or hot tub can cause serious damage, so you'll want to avoid those for 2-3 weeks, but showering is perfectly fine as long as you don't saturate your tattoo. If you get soap or shampoo on your tattoo, just remove it quickly with water. Swimming - whether it be a pool, fresh water or salt water - should be avoided for at least 2 weeks.
SCABBING AND PEALING
After a few days, you will notice some peeling and possibly a little scabbing. Apply warm moist compresses to the scabs for about 5 minutes 2-3 times a day to soften them and they will eventually come off on their own. (Do not apply ointment or lotion to a softened scab - wait for it to dry) You will also start to itch, just like a sunburn when it begins to heal. The advice here is, don't pick, and don't scratch! If the skin itches, slap it. If it is peeling, put lotion on it. And if it is scabbing, just leave it alone. Your tattoo is almost healed, and now is not the time to ruin it.
PROTECTION FROM THE SUN
After your tattoo is healed, from now on, you will always want to protect it from the sun's ultraviolet rays. These can fade and damage a brilliant tattoo very fast. Before spending a lot of time in excessive heat, protect your tattoo with a minimum 30SPF sunblock. This will keep your tattoo vibrant for many years, and it will continue to be a source of great pride.
Refer to
Tattoo After Care
for complete instructions.